Fatal Racing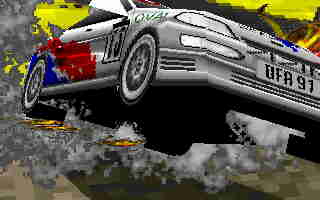 Fatal Racing is an arcade-style stunt racing game that goes by the name of 'Whiplash' over in the States. The graphics might have gone slow on the kind of computers that were around when it was realeased, but it was a playable and addictive game.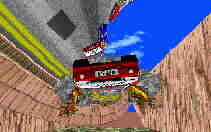 . . .
. . . .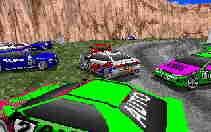 Fatal Racing supports one player, two player split screen and serial link, and 16 player network play.
(It's supposed to have a modem option, but I don't believe that part works).
Facts and figures


8 different cars to choose from
a bunch of camera views
16 different tracks, 24 if you use a cheat
adjustable skill levels
stunts, corkscrews, loops, twister jumps, bumps in the road that go up and down
a replay option with editing controls
those renameable, interchangeable, and even editable program files...
the ability to smash up your opponents
computer opponents that like to smash you back again
a silly commentator to keep you informed
team-based championship competitions where you can suggest strategy to your teammate



An arcade racer and stunt driving game, with demolition thrown in

. . . . . .
Fatal Racing combines elements of many different 'types' of car game into the one package - turn the car damage onto low and choose the right track and you have essentially straight racing, or use the 'Dr Death' cheat and you won't get much racing done at all. The screenshot on the right of the three above shows Fatal Racing's 'arcade-style' physics: I am driving the white car around the corner in the only fashion possible, which is to point it a good 80 degrees off from the direction you intend to travel. Still, cornering is always done at well over 300 kilometres per hour.
Fatal Racing will have you performing all manner of stunts as you drive round the track, and most of your driving will be done at full speed. This gives the game a rather steep learning curve, but at the same time the car handling is simple and not frustrating. Once you re-learn how to drive then competition between players is close.
The cars
Fatal Racing is pretty hard on your car, and won't let you make any modifications to the one you get, so car choice is pretty important. If you're playing on a high skill level, you'd be silly to pick a slow car since there's a lot of full speed driving. Each car has seven different characteristics (top speed, acceleration, braking, turning, grip, durability and mass), which are each given a rating out of 8 that corresponds roughly with the car's performance.


. . . .


The braking characteristic is not important, since Fatal Racing's bizarre programming allows you to change into reverse gear while you're still going forwards and that soon slows you down. Furthermore, it's possible to have the best turning while having the worst grip, and vice versa. Still, unless you've always been a serious simulation fan, you'll probably agree that the handling helps give Fatal Racing its own special character rather than being any kind of innacuracy.

General
Fatal Racing's graphics are very good considering the game came out in about 1994, but not that fast in VGA and dreadfully slow in SVGA. The sound uses stereo to make the various noises sound like they're coming from the cars, and has doppler effect simulation built in. Fatal Racing's midi music is nasty, but the CD music is fine if you like a bit of disco and dance music now and then. You can't really play your own CDs as music, because although FR installs itself completely onto your hard disk (25 megs), it still needs the CD before every race just to check that you didn't do any illegal copying of the game. Only on a network game can all players but one get their own CDs played.



The computer artificial intelligence is supposed to be very advanced, and this is true to the extent that the computer knows how to ram you, when to go to the pits, and even how to formulate clever race tactics and strategies and keep you up to date via intercom during races. The trouble is that these strategies are almost always not very clever at all, and even if you press the communication buttons lots of times you can't convince your team mate that it's not a good idea to be 'heading in the wrong direction' or 'slowing up' to 'stop a few of these suckers'. Also, due perhaps to unobservant play testers, the computer doesn't always have the right ideas on exactly where the pits are or how to get into them.
The hardest difficulty setting is a challenge since the computers drive fast, but somebody forgot to tell them to slow down for the corners. It's nice to see, though, that they play by the same rules as you, going after eachother as much as your car and driving the same speed irrespective of whether you are ahead or behind.

pros

split screen option!
network play which usually works
good graphics, detail settings avaliable
sound is clever, with stereo and doppler effect
stunts to do
'intelligent' computer opponents that like to get dangerous
excellent replay system
ability to bop the computers off the stunts, get damaged and then get even more damaged
car handling is just the right mix of realism and absolute rubbish
plenty of options and cars to choose from
many entertaining cheats avaliable; some make the game harder too
you can customise the commentator with files from shareware Whiplash, and the French and German versions of Fatal Racing that are also on the CD.
car textures swappable, on-screen messages editable for a laugh
Combination of different cars and game settings give lastability

cons

the graphics are slow and the textures distort
the game will hang if you die 3 times in one race of a tournament
the computer players have a few problems
quite difficult for learners even when set to 'girlie'
the gear system is all confused - change gear at half revs to get max. acceleration, change into reverse to stop, and have your gears often changed for you even when 'manual' gears selected
bonus cup tracks are mostly undriveable, and tournaments consist of one specific cup
needs a track editor

Try these clips of
Fatal Racing's music (13kb, 4-bit mono)
Fatal Racing's sound effects (38kb, 4-bit mono)

I had replays available for download before, but I lost them when this site was deleted from its old location. =(
I'll make some more.


2001 Look Back at Fatal Racing
Brilliant game. Whenever my cousins come around (they're about 10 and 12) or any other kids from about 8 years old and up, I set up a network game of this across our house. We have at least three computers going, we set up the messages to send to eachother, we taunt and tease, run eachother off the road when appropriate..
This is what a racing game should be about. It has stood the test of time - made in 1994, played in 2001 - and has proved the best value for money of almost any piece of software we've had since.
This game has one thing to say to all other racing titles and games companies out there:

Return to racing page